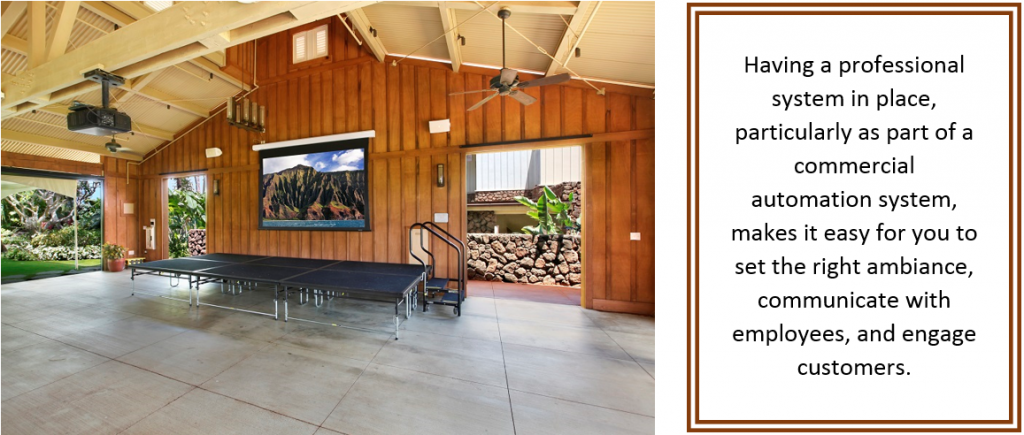 Centralize Control of Your Technology
Invest in the Proper Equipment
Protect Your Property's Distinct Style
Why You Need to Invest in an Audio/Video System
Any business, whether it's a sports bar or hotel, can benefit from a dedicated AV system. Having a professional solution in place, particularly as part of a
commercial automation system,
makes it easy for you to set the right ambiance, communicate with employees and engage customers. In this blog, we explain how this technology can be used in businesses throughout Kauai, Hawaii.
Centralizing Control
By incorporating your AV into a commercial automation system, you can access all your technology on a smartphone, touchpad or tablet.
Set the Right Ambiance

Adjust the volume and playlist in your restaurant, office or hotel at the touch of a button. Intuitive control lets you pick out music that enhances your brand while creating the perfect ambience—say a soothing instrumental playlist at your hotel spa.
Create scenes within your system to transition smoothly:


Use an "Evening" scene to transition from day to night (or lunch to dinner service) by closing the shades, turning up the lights (or dimming them in a more romantic setting), and changing the music.

Enhance Office Communication

Automate your boardroom to run more efficient meetings and conference calls. You can create scenes to prepare the room for any activity:


For example, a "Video Conference" scene rolls down your screen, turns on your projector and sets your display to conference mode. All you have to do is dial the number.

Incorporate the speakers you use to distribute music into an intercom system. Use your tablet or smartphone to page a particular room and immediately communicate with employees.
Installing the Right Equipment
It's also important to invest in the right equipment to get the most out of your system. This is where you benefit from having a professional familiar with the top brands in the industry.
Finding the Right Speakers

In most commercial environments you want to invest in in-wall and in-ceiling speakers with wide-dispersion to get uniform sound while protecting your space's décor. Unless you're running a sports bar or club, you want your sound to be heard but not seen.

Mounting Your Video Displays

Whether you want to share beautiful images in your hotel lobby or have various TVs playing in a restaurant, we help you find the right mounting option:


In a lobby or boardroom setting, televisions should be mounted flat on the wall for easier viewing and a sleek look.
In a sports bar where you have multiple televisions, find the right mounting angles so as many people as possible have a clear view.

Incorporating Screens and Projectors

Outdoor screens for movie screenings, training or promotions should be paired with bright projectors with a high lumens count.
Use retractable screens for training rooms and boardrooms so they can be put away when not in use to optimize your space.
From the right equipment to a comprehensive control solution, we cover every aspect of your business' AV needs
. Contact Pacific Audio and Communications
for a consultation.