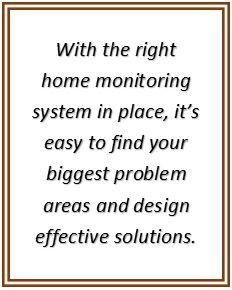 • Identify Problem Areas With Home Monitoring Solutions• Help Out Your Air Conditioning With Smart Shading Control• Eliminate Excess Usage With Motion Sensors


Why Do You Need a Smart Home Monitoring Solution?
There are a lot of things that could make the energy bills in your Kauai, Hawaii home skyrocket. There's the rising temperatures as spring approaches, the tendency to embrace the beautiful landscapes with large windows and doorways, and excess usage while you're away. Alleviate these issues with a Crestron home monitoring system that brings all your technology together to find your biggest problem areas and design simple solutions.



How to Find Your Biggest Problem Areas
 The first step in crafting a successful energy-cutting solution is to figure out the rooms and technology taking up the most resources. Below we explain how to best find these problem areas. 
Using Your Energy Dashboard


Crestron's Fusion EM Software lets you see how lighting, entertainment, climate control and security affect your usage.


Create historical reports: Look at your usage over time to see if certain months or even hours result in higher energy use.
Project future consumption: Once you start thinking of solutions, input them into your software to see how they would affect your consumption. These projections will help you pick and choose which solutions are best for you.
 How Can You Resolve Problem Areas? 
Once you've pinpointed issues in your home, it's time to come up with a solution. Below are some common problem areas and potential solutions for each:
Reducing the Load on Your Air Conditioning


Make sure to lower your temperature when you're not in your home or a specific room.


Install motion sensors so your thermostat rises in unoccupied rooms and automatically drops when you return.
Your home monitoring solution also lets you make changes remotely. Turn up your thermostat from your smartphone as you leave and turn it back down when you're heading home.
We know most homes in Kauai are vacation homes. Pick out the months you'll be away and let your system know the thermostat can be turned off or set to a higher temperature during that time.

With smart shading, you can use photo sensors to close shades as soon as they're hit by direct sunlight to help cool down your home.

Reducing the Impact of Your Lighting


Adjust your default settings with a smart lighting control

Reduce the default settings on all your lights from 100 percent to 90 percent. Play with your Lutron dimmers to see which could go even lower.

Eliminate Excess Use


Use your tablet or touchpad to see if lights were left on in other rooms and turn them off at the press of a button.
Use motion sensors to ensure lights and appliances turn off as soon as a room has been unoccupied for a length of time.
You can also incorporate scenes that help you manage your lighting.


Away Scene: Turns all your lights off when you leave the house.
Goodnight Scene: Turns all your lights off at a given time every night.
Pacific Audio Communications Inc. crafts a home monitoring system that helps you keep tabs on your energy usage and lets you create effective solutions.
Contact us
today to set up a consultation!