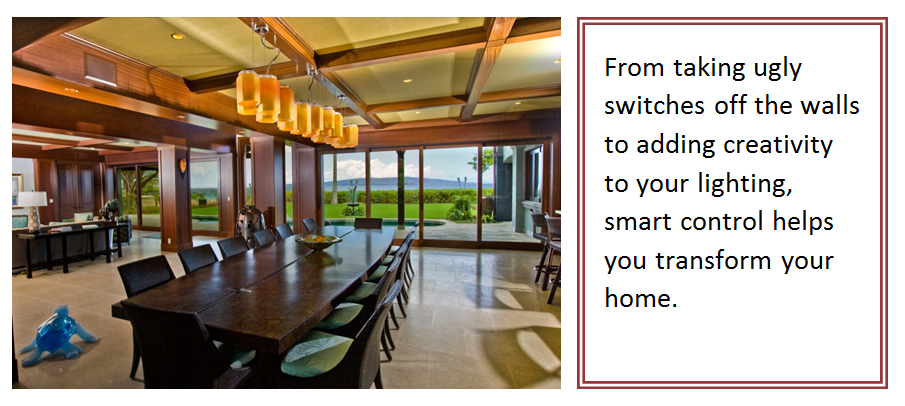 • Transform your space with pre-set scenes • Reduce wall clutter with centralized control • Expand the versatility of your home's lighting


Why is Smart Lighting Important for Your Home's Interior Design?
Smart
home lighting control
systems offer intuitive control which makes it easier to manage your technology. This in turn helps you create a beautiful, dynamic style for your home. From taking ugly light switches off the walls to adding a touch of creativity to your lighting, the right kind of control can enhance your interior and landscaping design.
Using Scenes to Transform Your Space
Scenes are an essential part of a home lighting control system, letting you adjust multiple fixtures simultaneously at the press of a button or at a scheduled time.
Using Manual Pre-set Scenes


Create unique scenes that you can pull up at a moment's notice to prepare the room for a specific event or activity. This way you can prepare the room quickly for any occasion:


Party Scene: Press a button and colored LED lights go up in your pool, fountains and living room. Decorative fixtures light up your driveway while inside fixtures highlight new pieces of furniture or art.

Some scenes can be scheduled at a given time each day. These are a great feature when it comes to your landscape lighting:


Light Up the Night: Show off your home when it gets dark. Schedule a "Night Time" scene at 7 p.m. that turns on your outdoor lighting. LED lights highlight specific architectural features and important walkways.
Getting Rid of All Your Wall Clutter
Through a smart home lighting control system, you can access all your lights from a touchpad, tablet or smartphone. It's a dream come true for interior designers. You can get rid of the switchers and dimmers on the wall and streamline your décor to fit your specific stylistic theme. Centralized control can affect your interior design in two distinct ways:
Get control from the device of your choice


Transfer all controls to one single device. Instead of five different switches in your living room, you only need one sleek touchpad on the coffee table.

Use scenes to reduce the number of switches


Instead of designating a switch for each fixture, install a keypad with each button corresponding to a commonly used scene - like a "Welcome" scene that turns on all lights or a "TV" scene that dims the lights.
Expand the Versatility of Your Lights
Home lighting control makes it easier to embrace new stylistic choices. With centralized control, you can bring in new features and ideas into your home from the comfort of your couch using your smartphone or tablet.
Get Creative With Colors: Change the color of your LED light fixtures to fit your mood or a given occasion. Go green for St. Patrick's Day or red, white and blue on July 4th.
Highlight Different Features: It's also easy to change up the things you want to feature. If you get a new piece of art work, turn up the fixtures around it to make it pop. Want to show off a new lawn ornament? Dim other areas in your landscaping and raise the fixtures around your new purchase.
We work hand-in-hand with architects, builders and designers to create lighting control systems that meet clients' unique styles.
Contact the experts at Pacific Audio & Communications
to learn about the many ways smart lighting can benefit your home.