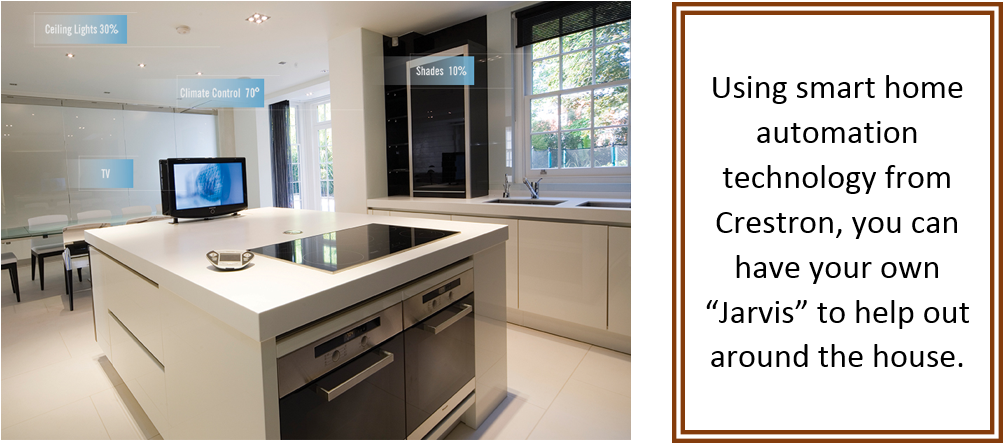 Enjoy hands-free technology
Effortlessly control every aspect of your home
Customize your system to fit your lifestyle
Total Control of Your Home is Possible with Crestron
Just a month ago, CEO Facebook Mark Zuckerberg achieved his 2016 goal of creating an artificial intelligence system to run his home. Aptly named Jarvis, the smart home technology controls everything from the lights to the surveillance cameras to even a T-shirt cannon. Zuckerberg even commissioned Oscar winner Morgan Freeman to do the audio recordings for the voice control system. If the idea of having your own Jarvis is appealing to you, read on to learn how you can add a
voice control system
to your Honolulu, HI area home.
Say Hello to Jarvis
Zuckerberg's Jarvis system has a lot of fantastic elements that make it easy for his family to enjoy life at home.
Lighting: All of the lights, from the landscape lighting to the bedside lamps, are connected to Jarvis. The Zuckerberg family can turn lights on, off, or to a specific brightness level in any area with a single voice command.
Climate: They can set the thermostat to a certain temperature, turn the HVAC on or off, or simply request to make the room cooler or warmer.
Appliances: Zuckerberg's Samsung televisions, smart refrigerator, and even the toaster can all be voice-controlled.
Music: To enjoy music throughout the home, Zuckerberg chose the simple yet high-quality audio brand Sonos. To listen to a favorite Spotify playlist, all he has to do is ask Jarvis.
SEE ALSO:
Why Invest in High-End Audio?
Security: When leaving home, Zuckerberg can ask Jarvis to arm the security system or lock the front door. Using Nest cameras, Zuckerberg can also keep track of his loved ones while away just by pulling up his smartphone.
Creating Your Own Voice Control System
The backbone of Jarvis is formed by
Crestron
, the biggest name is smart home automation technology. Crestron has the largest collection of home control devices, which makes them the obvious choice for a custom system like Jarvis.
Zuckerberg gave a personal shout-out to Crestron, saying "I recommend using a system like Crestron as a common interface to all those basic devices to simplify things."
You may be thinking that having an artificial intelligence system in your home is only for the likes of moguls like Zuckerberg, but anyone can experience the comfort and convenience of smart home technology through Crestron (minus the dulcet tones of Morgan Freeman).
Pacific Audio & Communications is Hawaii's top choice for Crestron smart home systems.
Contact us today
to learn how to we can help you transform your home with the power of voice control technology.